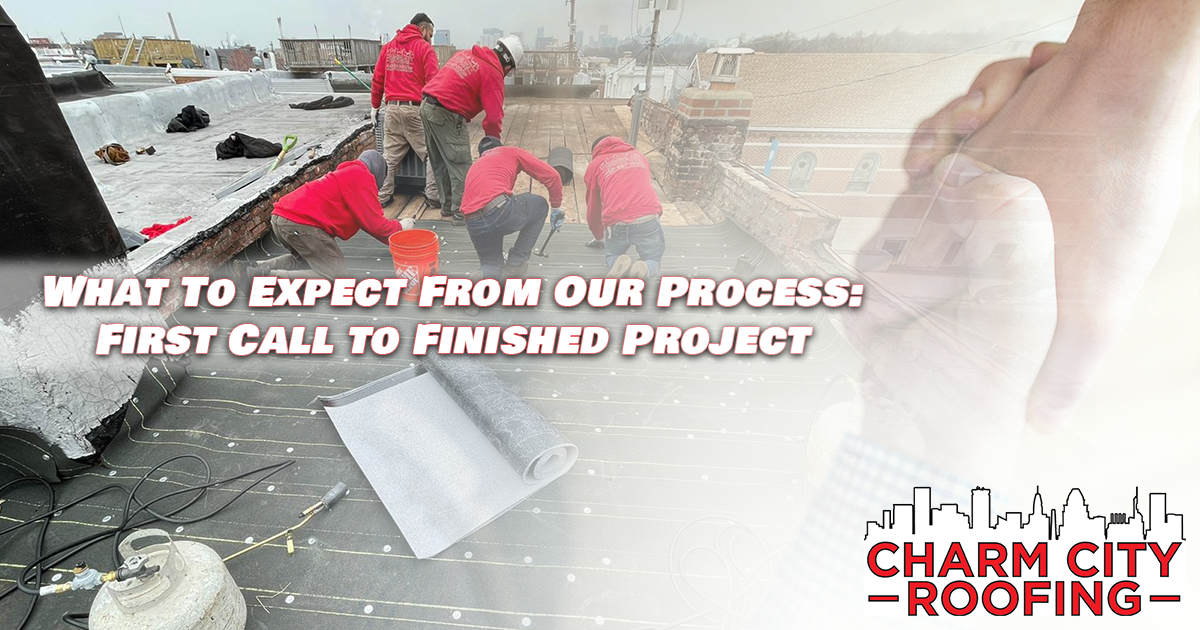 First Call to Final Project: What To Expect
We want to be in a relationship with your roof.
We're not romantics here at Charm City Roofing. But, we do strive to create a mutually beneficial partnership based on clear communication and respect. We believe in laying strong groundwork that can weather tough storms, in having someone to call in times of uncertainty. We recognize the importance of issues that reside below the surface. Above all, we believe that going the extra mile is the cornerstone for an excellent working relationship. If that's not love, what is?
If this sounds like the kind of support and care your roof needs, Charm City Roofing might be the perfect fit. This is what to expect from your experience with us.
Making an Appointment
When you reach out to Charm City Roofing, you'll immediately be put in touch with a representative. You'll be asked a few questions about the nature and scope of your project. Once we understand the services you need, we'll work out a date and time for an estimator to come by. This assessment is offered free of charge to you and with zero obligation. (For more information on what an estimator does, check out this article.) Finally, we'll introduce you to your estimator/project coordinator and set an appointment reminder. Congratulations! You've just taken the first step towards a beautiful new roof.
The Estimate
Think of this as the first date. When the time arrives, we'll dispatch an estimator to your property and have a quick introduction. After that, it's up to the roof. We'll walk the roof (if possible) assessing the condition of your materials and looking out for other potential issues. The whole process is thoroughly documented. We take notes and pictures so we can relay to you exactly what we've seen. We want to keep you informed every step of the way.
Your estimator will look at our initial conversation as well as any other information we acquire during the estimation. Based on this knowledge, the estimator will put together a slate of potential courses of action. Each will be designed to fit different budgets, time, and procedural constraints, so you can choose the project that works best for you! When you're confident in your choice, we'll draft up a contract for you to look over.
The Contract
We get it, commitment can be scary. You'll get no high-pressure sales pitch here; take your time to look over the contract draft. In it, you'll find a detailed outline of the course of the project, including the time frame. You'll also find specifics about the nature of the work and the start date (found on page 2). Lastly, you'll find the initial deposit amount, which we require before work begins. Take this time to familiarize yourself with the details of the project, including the financing options available to you. Your estimator or project coordinator will be more than willing to answer any questions. Once everything the contract has been signed, all that's left is to wait for the day to arrive. 
In the meantime, you may want to read about the ways in which you can prepare for your new roof. Small steps like making sure your neighbors are informed, and pets are safe can go a long way towards making the project smoother and more enjoyable. If you have questions in the time leading up to construction, feel free to reach out to your project coordinator!
The Project
When the big day comes, our expert crew will begin the work process. With most projects, they will be in and out on the same day. If there are any unexpected developments due to circumstances like weather, you can expect a prompt and clear explanation. Any previously undiscovered issues such as wood rot will also be accompanied by a detailed change order if necessary. Like we said, communication is key. Once the work is complete, you'll be given photographic records of your brand new roof for your records. And lastly, you'll receive a detailed final invoice for the completed project.
The Goodbye
We knew this day would come. As much as it breaks our hearts, we also know that every good thing comes to an end. However, we can still be friends! Feel free to reach out with questions, or leave us some feedback on Google and Facebook. And the next time your roof needs a little extra support, or even just needs a shoulder to leak on, we hope you'll reach out to Charm City Roofing.
Author: Wilden McIntosh-Round