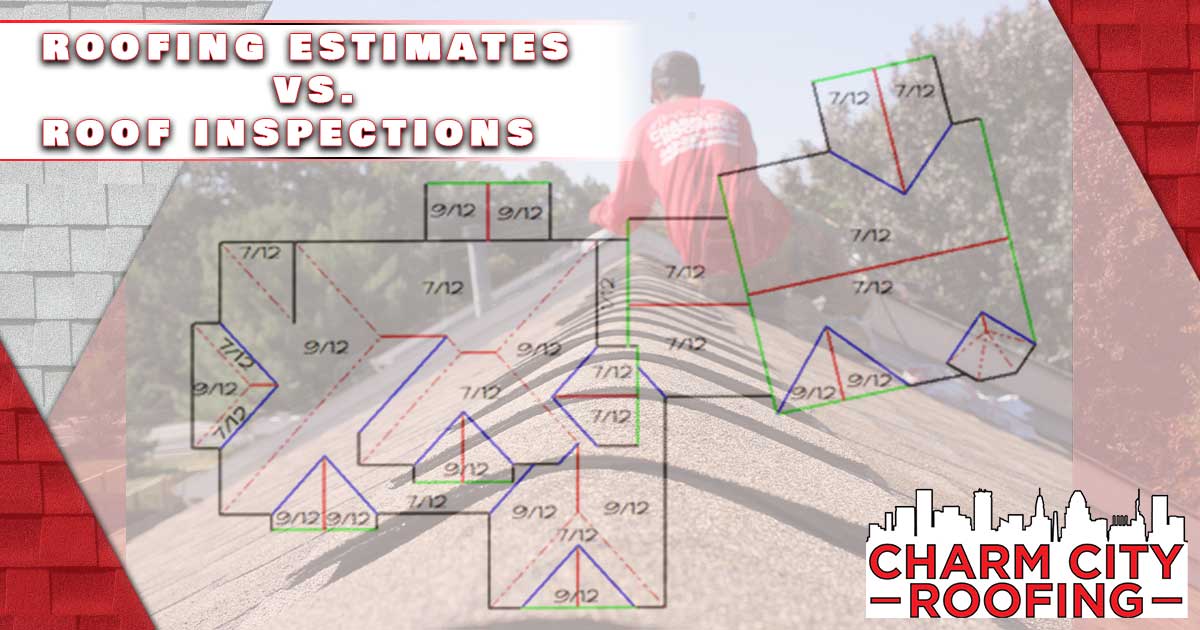 Roof Inspection vs. Roof Estimate – What to Expect from Each
Roof Inspection vs. Roofing Estimate: 
What to Expect from Each and How They Differ
When I was five or six years old, I remember having a particularly hot summer. Parched, I saw a glass with a curiously long stem on the table and took a deep drink of what looked like apple juice. When I was done throwing up in the sink, my mother looked me in the eyes and told me not to drink juice from cups with long stems until I was older. I spent the rest of the afternoon napping off a buzz.
The moral of the story is this: two things that might seem the same at first glance are sometimes very different up close. Such is the case with roofing estimates and roof inspections; they may seem to serve the same purpose, but there are important differences that, if ignored, could leave you with a sour taste in your mouth.
What is a Roofing Estimate?
Let's say a big branch falls off the tree in your backyard onto your home, and a few days later you notice a nasty ceiling stain. It's safe to assume the branch has done some damage to your roof, causing the new eyesore upstairs. Maybe you can even see telltale signs of damage from the outside.
In this case, the roofing company you contact can often send someone out to take a look at the damage to your roof, give you an itemized repair list, and quote you a price for said repairs, all at no cost to you. This is an excellent example of when to use a free roofing estimate; when there is very little doubt as to what is wrong and how to fix it. 
Alternatively, another situation to seek a free roofing estimate is if you know that your home's roof is approaching the end of its life expectancy.  An preemptive estimate on the replacement of your roof helps you to research and prepare for the associated costs of replacing your roof.
In other words, you should seek out a free roofing estimate when you either know what repairs you likely need, or that your roof needs replacing due to age. An estimate's assessment should be thorough and offer plenty of useful information about how to proceed with repairs or replacement. However, these assessments are a fairly surface-level verdict when compared to a formal roof inspection, and shouldn't be considered a valid replacement.
What is a Roof Inspection?
A roof inspection, on the other hand, is a much more in-depth assessment of the health and condition of your roof, and the relevant portions of your home. There's a reason that these services come with a price tag. A roof inspector will not only look at damage to the roof itself, but will also perform interior inspections to identify signs of rot and attic condensation. Structural issues such as frame misalignment, improper plane, or roof sag can severely compromise the integrity of your roof, and in some cases they can render other repairs useless or ineffective. An inspector will consider deeper issues like these, but an estimator won't necessarily be looking for them. 
In the event that you have an issue that goes beyond the scope of simple roof work, a roof inspector can point you toward a general contractor who is better suited to make those repairs. If you're not sure what is causing your problem, it's best to call an inspector.
Like an estimator, homeowners often hire inspectors after a severe storm or accident to assess the extent of the damage. However, you need not wait until after an accident occurs. Hiring an inspector for a regular roof checkup is recommended, as it can help you uncover hidden problems early in their development. Keeping a comprehensive record of the inspection results year-to-year can pay long-term dividends. This is especially true when it comes time to point your estimator in the direction of the problem.
What is the Difference Between a Roof Inspection and a Roofing Estimate?
The most critical distinction between these two services can be boiled down to scope of work. Which issues will each professional take into account? How deep will the inspection go? What have they been hired to provide? 
An estimator's job is to inform the customer about the services their company can offer. While they will conduct an in-person assessment of the roof and any repairs needed, they will often rely on the homeowner to highlight the boundaries of the project. Still, inn most cases an estimate assessment will successfully address and repair minor leaks, storm damage, or superficial deterioration.
When requesting a
free estimate
from a roofing company, you can expect:
An analysis of the materials, square footage, and condition of your roof. This will include a list of recommended repairs and/or replacements.

Specific plans for repairs or replacement as provide through their company

Approximate timeline for the project

Exact cost of repairs and warranty options
An inspector does not work for a roofing company. Their job is to inform you about issues in advance, and outline the best course of action to resolve them. Their scope of work is broader and deeper than an estimator. Inspectors will provide you with photographs, certified documentation, and repair recommendations. Afterward, you'll have all the information you need to keep your home in excellent condition. As such, inspections are better used to assess and understand the issues your home is facing. Ideally, inspections will provide you with insight before repairs are even necessary.
A
roof inspection
will provide:
A structural review of your roof, including problems with framing, plane, pitch, drainage, and ventilation.

A material inspection of the shingles, flashing, and other items.

An analysis of factors such as attic ventilation, chimney cracks, mold and rot.

Problems in workmanship that may present problems either immediately or in the future.

A list of what repairs, if any, are necessary, and an estimation of the costs associated (but usually

not

a quote!)
Knowing how the scope of work differs between inspectors and estimators will help you cover your bases effectively.
The Bottom Line
Understanding the difference between free estimates and paid inspections is crucial for an efficient and effective roof repair. 
You shouldn't rely solely on an estimate for a complete understanding of the issues facing your home.  The resulting repairs may resolve the issues on your roof, but there is the potential for underlying issues going unsolved. Staying well-informed about the status of your home through annual inspections smooths this process, for you and for your contractor. It also ensures that extensive and unforeseen repairs do not catch you off-guard. Meet your contractor with questions about your home, and offer as much documentation as you have available.
In other words, know the difference between your water and your wine.
Author: Wilden McIntosh-Round