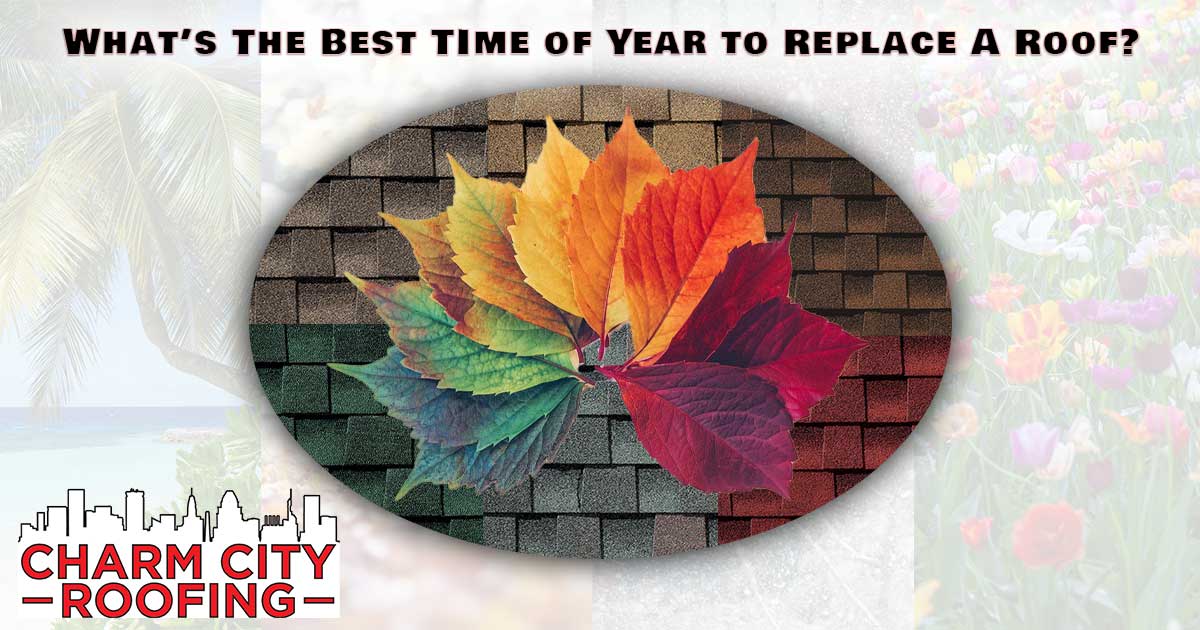 What Is The Best Time of Year to Replace A Roof?
What Is The Best Time Of Year To Replace Your Roof?
Replacing, or even repairing your roof is a major decision as a Maryland home or business owner. Roofs are significant structures, and often a once in a lifetime investment; not something to be shrugged off. When considering roof replacement, there are a huge number of factors to consider; everything from choosing the right contractor, to choosing roofing materials, to finding the best method of financing.
This post will address one of the most overlooked points of consideration; the timing of your project. When deciding what time of year to replace your roof, know that the season and subsequent weather play a crucial role in roofing projects. When you choose to replace your roof can affect everything from building & construction strategies to price of materials and labor.
That said, a reputable roofing company will be able to complete your project at any time of year. While each season requires certain considerations and unique approaches, you don't have to compromise the timing of your project for quality service.
With this in mind, read on for a more fleshed-out description of the different obstacles and benefits you may encounter at different times of year.
Which Seasons Are Best Suited for Roof Replacement?
WINTER Roof Replacement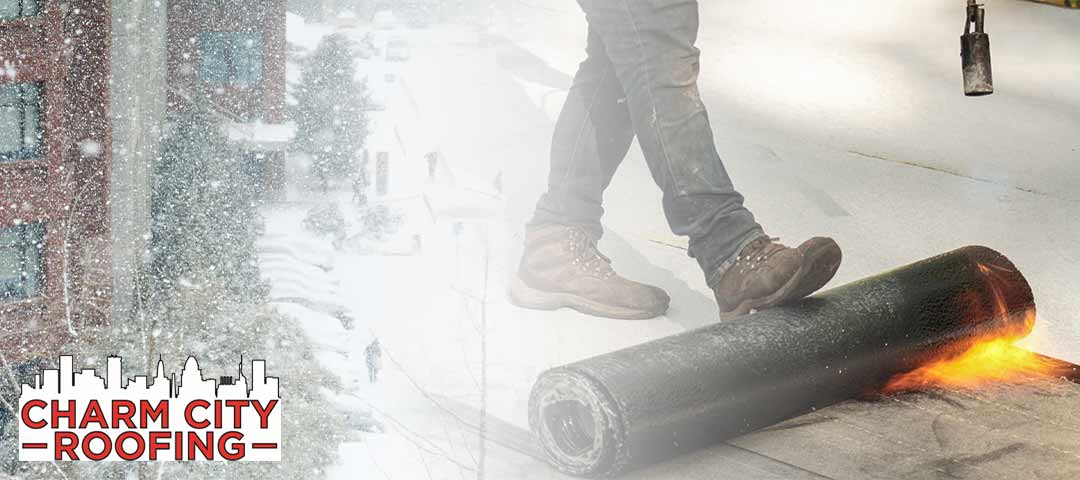 Pros
Often lesser wait times and prices

Most roofing work can still be done in winter weather
Cons
Project susceptible to weather

Impossible in some climates



Winter is easily the least common season for roofing projects. Homeowners often have the perception that removing their roof during the cold winter months is an even worse idea than allowing a problem to persist. If your home has a roof leak or other damage, please seek immediate help.
Cold weather indeed makes much of the technical work of replacing a roof more difficult, but it doesn't have to halt it completely. Though we don't worry too much about extreme temperatures here in the Baltimore, MD area, asphalt shingles can become brittle and prone to breakage in the cold. Certain kinds of adhesives become less effective or ineffective at temperatures below 40ºF, which can hinder repairs. In very cold or snowy locations, a wintertime replacement may not be feasible at all. Fortunately, if you have a flexible schedule and accommodating conditions, there are many ways to get a quality replacement in winter. 
For example, workers can install torch-down flat roofing to administer a quality roofing membrane regardless of the warmth of the day. Even architectural shingles, which sometimes rely on a self-adhering layer between overlaps, can be perfectly secured in the sunlight of a cold winter day.
SPRING Roof Replacement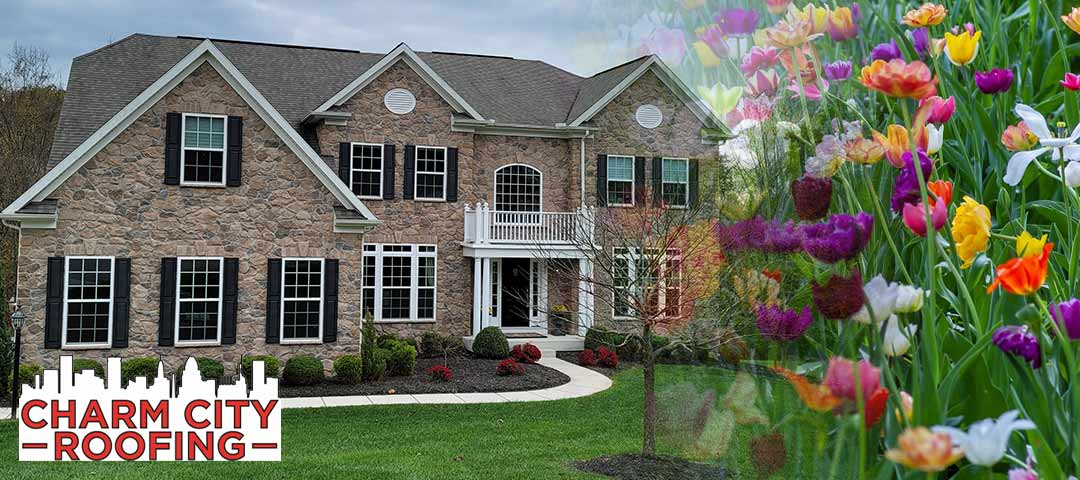 Pros
Great weather

"Off" season with low demand
Cons
Difficult to schedule around

Risk greater roof damage



Spring weather is comparable to fall weather; temperatures are moderate and perfect for construction. Additionally, because roofing companies are usually less busy in the spring than autumn, clients looking for a repair or replacement in this season will often find more flexible timeframes. 
Coming out of the winter months, it's not uncommon for the prices of materials and labor to be lower in the spring as well. However, badly damaged roofs will only deteriorate further over the winter months. If your roof is already having problems, it's a bad idea to wait until spring as these problems will almost certainly worsen under ice and snow buildup.
SUMMER Roof Replacement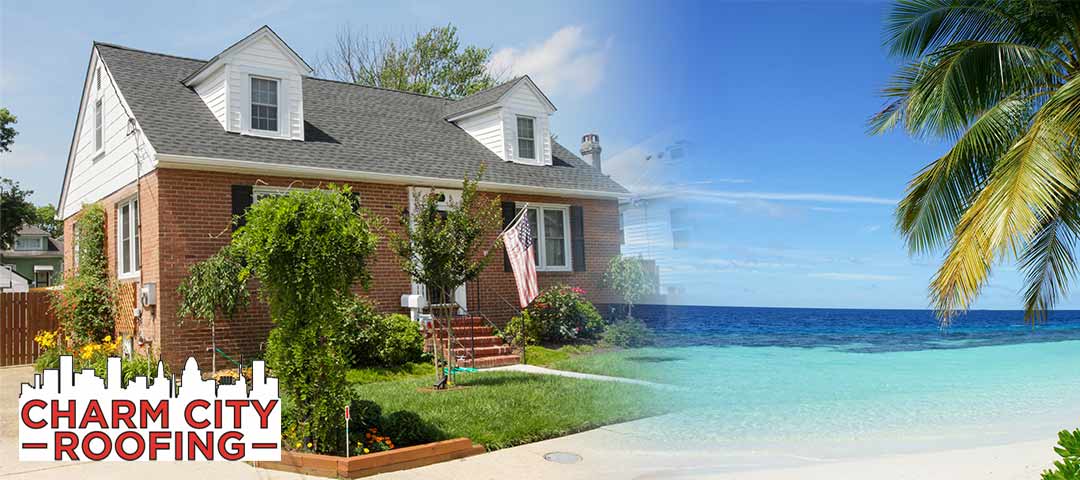 Pros
Consistent weather

Potential to schedule the work around a vacation
Cons
More Strenuous Labor

Heat can affect roofing materials



Summer is another popular time for roof replacement. The weather, prices, and demand are all comparable to autumn conditions in the later portion of the season. Many homeowners discover issues with their roof during the hot summer months. High outdoor temperatures and climate controlled indoor temperatures clash as attic condensation under an unventilated roof. Additionally, summer heat can dry rot seams and seals, which are then exploited during heavy rain storms.
If you opt for a midsummer repair or replacement, however, you may have to account for high temperatures and their effects on both laborers and roofing materials.
Again, a good roofing company will be able to provide a quality outcome even in summer heat. Nonetheless, summer replacements come with certain challenges. Heat can soften asphalt shingles, causing them to be more susceptible to damage from the tools and feet of roofers. Hot weather can also slow the timeframe of a project, as workers will not be able to work as many hours at a time.
FALL Roof Replacement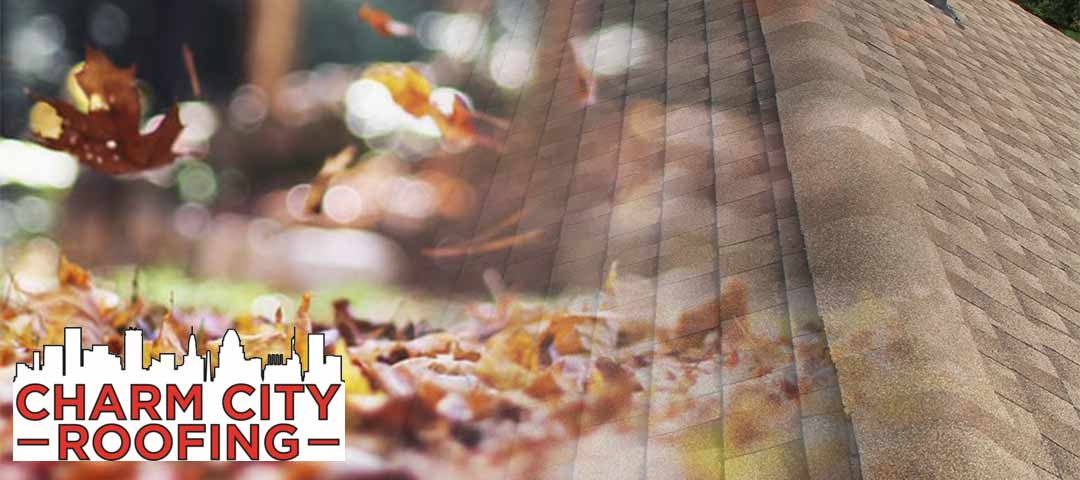 Pros
Convenient project timing

Great weather
Cons
High scheduling competition

Higher prices



Fall is a time of year that doesn't present many unique obstacles. As with any other season, roofing construction is generally unable to proceed under inclement weather. Luckily, aside from an occasional NorEastern or tropical storm residual, fall weather is calm and mild. However, with the extra gutter cleaning that typically occurs during this time of year, many homeowners are more keen to notice problems with their roofs.
For these reasons, fall is by far the most popular time of year for roof replacement and repairs. The combination of mild weather and a rush of clients trying to finish their roofs before inclement winter weather sets in creates a seasonal surge. 
There's a good chance that a fall project will work well with your home improvement timeframe, but it also means you'll be facing steep competition for roofers' time and could potentially pay a higher price for that time.
The Best Time Of Year To Replace Your Roof Is The Time That Best Suits You. 
Whatever your situation, don't put off replacing your roof until the last minute. The most important thing is to service your infrastructure as needed, regardless of the season. While a summer or winter repair may yield unique challenges, a quality roofing service will be able to deliver results. Preemptive repairs and awareness of the condition of your roof can save you time and money in the long run and protect you from further damage. Forward planning can keep you from needing to rush a repair when it's too hot, too cold, or too busy.
Author: Wilden McIntosh-Round