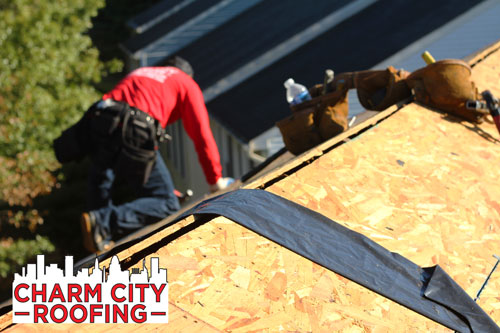 Old Roof Tear Off, Starts New Roof Installation
Make way for a new roof. Old roof, be gone!
A time lapse video shows a new roof installation starts with an old roof tear off.
So, you need a new roof and have no idea who to call or what to expect. We give you some insight with this video. Tearing off the old roofing is the first major part of the process. Tarps are always spread around the entire home to catch old roofing materials and debris. Once in place the roof is stripped. We remove old ridge vents, shingles and underlayments (the waterproof membrane between your shingles and sheathing). Fortunately for this homeowner, the sheathing was in good condition and didn't need replaced.
As you've seen, the process is quite involved in terms of labor. But with an efficient process, the right man power and the right tools, a roof can be stripped in a matter of hours. For a townhouse like this one, the whole roof can be replaced in half a day or less.
Finishing the roof
So the old roof is torn off, now what?
We recover the roof using the GAF roofing system. This gives homeowners the best possible barrier between their home and environmental elements. The new roof includes a new drip edge, starter course, underlayment and shingles.
Check out our services page to see the different types of coverings we install.  There you will see architectural shingles, like the ones we decided to use on the home featured in the video, and other options like slate and wood. We ensure each roof is reinforced and safeguarded by essential GAF Roofing system components regardless of the covering you choose for your property. Our underlayments are far superior to the weather paper used by most contractors.
Hopefully this video has given you some insight into the process. We know a roofing job can seem daunting, but with the right contractor and best roofing materials it can be a hassle free process that will save you money in the long run.
For more videos and content related to our business, please visit our new YouTube channel and be sure to subscribe: Charm City Roofing YouTube Channel!