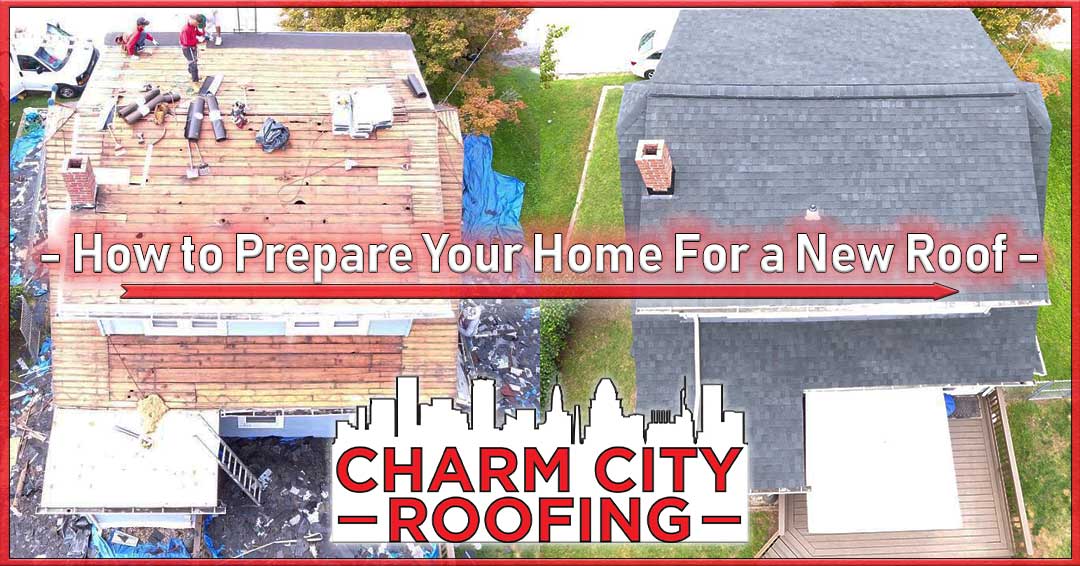 How To Prepare For a New Roof Installation
How Do You Prepare for a New Roof?
Having the roof of your home replaced can be an exciting ordeal. The winter gave you grief. You've had leaks, damage, and all sorts of trouble, but now it's finally time to resolve those issues. Spring is finally here in Maryland, and you can feel more comfortable with your new shingle roof.  However, having the roof over your head peeled off and replaced can also be a bit worrying. How should you prepare? Are there any precautions you need to take for a new roof installation? Fear not. Charm City Roofing has you covered (pun intended.) Here's a list of the ways we recommend our customers prepare for a new roof installation.
Give the roofer access to your roof.
It seems rather obvious, but your roofer is going to need to get on to your roof! Any professional roofing contractor will come prepared, but it's always nice to arrive at a job without having to ask the homeowner to relocate things from the perimeter of the house.
Installing a new roof is a big project and takes up a lot of space. A good roofer will set up tarps and other means of catching debris around the perimeter of your home. This saves a lot of time for the clean up process. To make sure that your outdoor items are safe, and that the roofers' cleanup is as efficient as possible, clear your driveways, sidewalks, patios, and flower beds before the crew arrives. This means move your vehicles, remove children's toys, outdoor furniture, grills, etc. away from the house.
Make Arrangements for Children and Pets
Don't be mistaken, pets and young children aren't in any inherent danger when you're getting your roof replaced. However, pets that go to the bathroom outside and children that like to run around might feel a bit stir crazy during the process.
A new roof means tearing off your old one, and replacing it with new foundation boards, underlayment, and shingles. Construction can be noisy, and outdoor debris can be dangerous, so if possible we recommend finding short-term accommodations for your pets and children.
Protect Your Valuables that are in the Attic
Experienced and attentive roofers should always try to minimize their footprint from the job, but replacing a roof is inherently a pretty dusty, dirty job. If you keep antiques, valuables, or cherished items in storage in your attic, make sure that they're covered and out of harm's way.
Upgrades to your home, both structural and aesthetic, boost your home's value — and your neighbors'! It's true that if the neighborhood looks better, it's more appealing to a potential buyer. Your neighbors will be happy to see you're doing your part in caring for your home, but they might also appreciate a fair warning of the construction.
Just as above, small children and pets in the neighborhood can be equally as affected by the process on your home. Additionally, if your neighbors have nearby vehicles, outdoor furniture, or decorative items, they might want to move them as well. One of the best things to do to prepare for a new roof is offer the small gesture of letting your neighbors know about the project ahead of time. It saves them the headache of making arrangements that are unexpectedly interrupted by noise and obstacles.
Take Note of your Interior
Heavy construction on your home can cause vibrations throughout your home. While roofing isn't the biggest of ordeals, projects that involve laying new OSB boards and the like might cause some shaking on your home's frame.
If you have valuable items like pictures, mirrors, or artwork loosely hanging on your walls — especially on upper levels — double check to ensure that they're secure. The last thing you want to do is clean up broken glass instead of enjoying your new roof.
All in all, working with an experienced roofing company that has a solid and verifiable track record is the best way to prepare for a new roof. Their expertise should cover everything with you in advance. After all, they've done this hundreds of times.
Installing a new roof should take as much time for planning on the back end as it does to do the physical work. At Charm City Roofing, we're always working towards new ways to improve our customers' experience and the quality of service we deliver.
Is the roof on your home beginning to look streaky and worn? If you think it might be time for a new roof or an inspection for roof repairs, contact us to schedule a free estimate.  We proudly serve the greater Baltimore, MD area including Howard, Montgomery, Carroll, and Anne Arundel Counties. Additionally, we've expanded our services to Ocean City, Maryland as well! Residential or commercial, pitched roof or flat, Charm City Roofing has you covered!