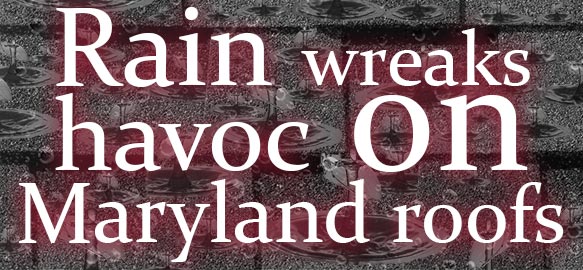 Rain Wreaks Havoc On Maryland Roofs
Summer days busy for a Maryland roofer
Roger Bush, owner of Charm City Roofing and experienced Maryland roofer, has been to a lot of homes severely damaged in the aftermath of recent storms that generated torrential downpours.
In one incident a homeowner was lucky to escape unharmed. A rotten wood joist crashed through the ceiling of the row home in Baltimore's Federal Hill neighborhood. The rotted joist plummeted directly onto the owner's bed, and ripped down the ceiling scattering drywall all over the room. Luckily no one was injured.
"We've just been seeing just a ton of really rotted roofs," Bush said.
Wet, wetter, wettest. Weather research shows extraordinary rainfall
July was one of the wettest months on record in the Baltimore area. Last month nearly 17 inches of rain fell in the area, according to the National Weather Service. That total nearly topped the July record of more than 18 inches set in 1955.
The totals from last month made it the fourth rainiest month on record. Storms produced nearly three inches more precipitation than the next wettest July when nearly 14 inches of rain soaked the area in 1933.
"July was a month of extremes with unprecedented dryness followed by extreme rainfall," according to the National Weather Service's July precipitation report.
The major reason for the wet weather pattern, according to the Baltimore Sun, is what's called a Bermuda high, or Azores high.
The National Weather Service defines the weather pattern as a "semi-permanent, subtropical area of high pressure in the North Atlantic Ocean off the East Coast of North America that migrates east and west with varying central pressure."
Compounding the problem, June also was an above average month in terms of rain. In fact, there's been above average rainfall in the Baltimore area each month starting in April.
Wet weather, unpredictable and deadly
In some cases the wet weather has even been deadly. A strong storm on 
May 27
 dropped more than eight inches of rain in the Ellicott City area in a matter of hours. The deluge caused the second deadly flood in the historic mill area in as many years.
A wet start to summer up doesn't guarantee the trend will continue in August, National Weather Service data indicates a wetter than usual June and July doesn't guarantee more rain later in the summer. But unpredictable weather patterns, fueled by climate change, make depending on previous years to make predictions difficult.
In addition to rain, some of the most severe storms produced hail. The frozen precipitation is a leading cause of roof damage across the United States. In the past five years, according to the Insurance Information Institute, nearly 11 million homes on average have been affected by hail across the nation.
It's also currently peak hurricane season in the Atlantic Ocean. The storm season started on 
June 1
, and will pick up steam through August and September and peter out as it gets closer to its conclusion on 
Nov. 30
.
The National Oceanic and Atmospheric Administration Climate Prediction Center projects a 35 percent chance of an above normal storm activity in its 2018 Atlantic Hurricane Season Outlook. The outlook, with a 70 percent probability, also predicts as many as four major hurricanes, up to nine hurricanes overall, and a high of 16 named storms.
Combine the deluge of rain this year, serious wind storms, such as the derecho that pummeled the East Coast in May doing $1.4 billion in damage, and the potential for hurricanes, and area roofs are in trouble.
No rest for a Maryland roofer
As a result roofers, such as Charm City Roofing, are in high demand. The company has three full-time crews working that can handle as many roof installations in a day. But Bush said they're receiving as many as 100 calls a day from homeowners looking for help with significant damage. And they aren't the only Maryland roofer receiving that same volume of calls.
Much of the damage Bush and his crews are fixing could've been prevented. All it takes is a homeowner being observant and not procrastinating.
Preventative measures and routine roof inspections help homeowners save
Homeowners should take the time, Bush said, to inspect their roofs after a storm with strong winds to make sure they're in solid shape. It's important to establish if a roof is wind damaged because insurance covers those repair, but not water damage.
If a house has a shingled roof he recommends searching the roof from across the street for any damaged or missing shingles. While a missing shingle may not seem like a big deal one piece of lose material can lead to another and another culminating in big problems.
Flat roofs, more common in Baltimore City, are especially troublesome during wet weather. They are also more challenging to check for damage.
"Flat roofs are a lot tougher because you can't see it," Bush said.
In that case, a homeowner may want to get on top of the home if they can do so safely, he said. Once up there, take a look around, and make sure there's not a corner peeled back or a pool of water setting on top.
Indications of roof issues can also be found inside a house.
If a house has an attic he suggests inspecting that area as well after storms. Climb up and check for wet insulation, which can act like a sponge in a well insulated structure.
Discoloration on a ceiling or wall is also a strong indicator there's a problem with a roof. If a homeowner sees a spot, Bush said, don't put it off. Call a professional quickly. A licensed and insured Maryland roofer is only one Google search away.
Acting quickly can minimize damage and costs
"As soon as you see a stain or discoloration get it checked out. It's a red flag," Bush said. "Don't just ignore it."
Addressing a suspected problem right away can lead to major savings for a homeowner.
Having work done right away can be the difference between lighter work, like installing new shingles, and having a completely new roof installed.
While roofing work isn't cheap, paying roughly $6,000 to have all new shingles placed is a lot cheaper than the alternative. Waiting can lead to rotted wood, Bush said, and that's twice as expensive.
"If (the leaking) has been that for a while, now we're talking about replacing all of the substructure," he said.
Links:
Related Articles:
Storm damage to your roof and how to prevent it
Roof leak or attic condesation
Charm City Roofing could be your Maryland roofer!