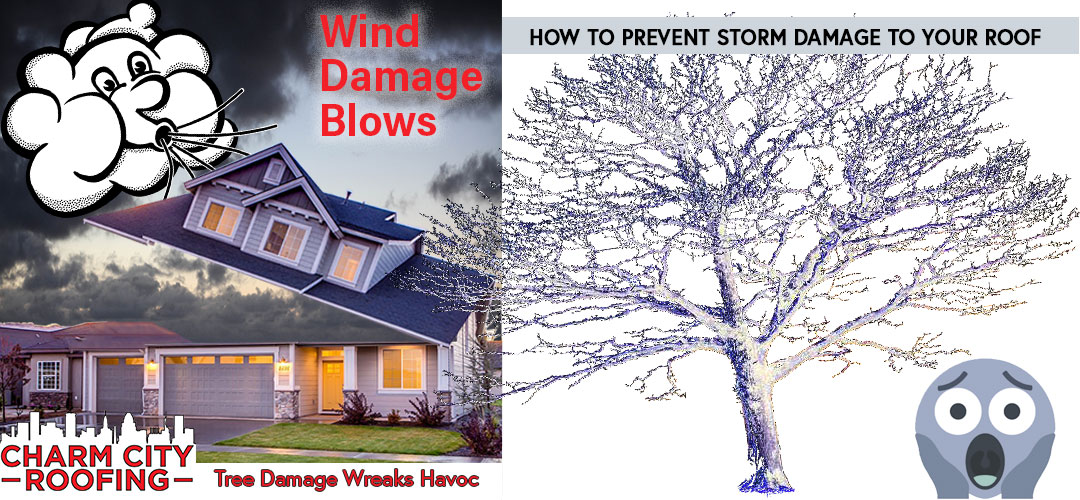 Storm Damage to Your Roof and How to Prevent It
Was your home affected by the winter storms this year? How you can prepare for future storms.
Winter Hit Maryland Hard This Year
Winter struck Maryland with one last haymaker on its way out causing damage to homes throughout the Northeast.    
The latest nor'easter, named winter storm Toby, toppled power lines and flooded coastal areas in late March. The weather played a role in three deaths and left roughly 100,000 people without power. The region struggled with storms all winter including four nor'easters in March alone, according to the Weather Channel.   
One of those storms, dubbed a "bomb cyclone," resulted in several deaths in a handful of states including Maryland, Virginia and Pennsylvania. Unleashing winds that topped out at 93 mph in New England that winter fusillade left roughly 2 million people without power.  
Roofing industry professionals say severe weather, often attributed to climate change, is on the rise. Shingle manufacturer IKO's Vice President of Sales Keith Lowe, said in a company blog post in 2017 "we don't expect storm activity to slow down."   
Public insurance adjusters Property Adjustment Corporation found two of the top three costliest homeowner insurance claims of the past five winters, defined as between December and March, often involved a home's roof.
Protect Your Roof From Tree Damage
Tree collapse was the No. 3 most expensive claim with an average cost of $3,000 to $5,000 in the Northeast. Hail damage was the second costliest
claim, and most common at season's end, primarily causing roof damage with claims averaging $10,000.    
Insurance companies are urging homeowners to take steps to prevent this type of damage from winter storms.
At the top of the to-do list, according to Travelers home insurance, is trimming trees and culling dead branches. A simple pruning can prevent home damage by eliminating the potential for these hazards to fall on a structure during storms.
It's important to check for damage, such as roof bubbles and missing gravel, before hazardous weather is forecasted. A roof's flashing should also be regularly inspected to prevent water seeping inside.
"Many types of severe weather can put added stress on roofs, from high-speed winds ripping off shingles, heavy debris and ice getting caught in gutters, to the weight of excess snow," Jim Gustin, a senior property specialist, risk control at Travelers, said in a statement.  
Insurance Companies Push Homeowners To Invest In Impact Resistant Roofing
Homeowners who escaped winter unscathed should heed Mother Nature's warning. By-and-large avoiding calamity, and the arrival of spring, doesn't mean roof upgrades are less urgent.
Due to more frequent and intense storms insurance companies are pushing homeowners outside of areas typically associated with severe weather to use products, such as impact resistant roofing.
As a result, consumers considering repairing or replacing their roof need to be aware of the various products available. Working with a professional to properly determine what's needed to withstand punishment from wind, hail and snow could save a homeowner money.
GAF Products "Proven To Be The Best In Breed"
Charm City Roofing uses a variety of GAF products, including Timberline High Definition Shingles with Advance Shingle Protection Shingle Technology architectural shingles, Royal Sovereign three-tab shingles and for the iconic Baltimore row home Ruberoid granulated torch-down. GAF also offers impact resistant products, such as Timberline ArmorShield II Shingles.       
David Weekly Homes, the nation's largest privately held home builder, presented GAF with its Partners of Choice Award last year. The company graded GAF with an "A ranking", using Weekley's proprietary scoring system. GAF  was one of 20 suppliers, out of 200 firms evaluated, to receive the top ranking.
"Our rigorous process allows us to measure each company's performance and compare it across diverse industries. In essence, we have designed a practical way of measuring world-class excellence. Through their actions, our friends at GAF have proven to be the best of the breed in providing quality products to our team," Bill Justus, vice president of supply chain services for David Weekley Homes, said in a statement.  
Consumer Reports, an independent nonprofit, is bullish on a handful of products including Owens Corning Berkshire Collection and CertainTeed Grand Manor, which topped the organization's latest roofing tests. Bargain hunters may also be interested in Owens Corning Oakridge and CertainTreed Landmark shingles.
Worried About Winter Storm Damage? Materials You Should Consider
Homeowners particularly worried about winter damage should consider materials such as slate, or lighter composite shingles that stand up better
to heavy rain and snow. Cedar wood shingles are also an alternative to asphalt shingles that holds up well in winter months. These options, in addition to metal roofing, are well regarded for their ability to resist wind damage.
For homes with clay roof tiling, a potential solution for winter weather woes is cement tiling that holds up better against wind and snow. Passive solar panels that capture warm air from a homes heating system are an environmentally friendly method to protect a home from inclement weather.
A major factor when deciding about upgrades is the design of a roof. Certain slopes, or even a flat roof, will limit the types of materials that can be used. Residents may also be restricted by guidelines laid out by their homeowners association.
In most cases, products are available in a variety of styles that will not only protect your home, but make it more attractive and strengthen its value.  Charm City Roofing is proud to offer a number of different shingles to provide your home with the best product.