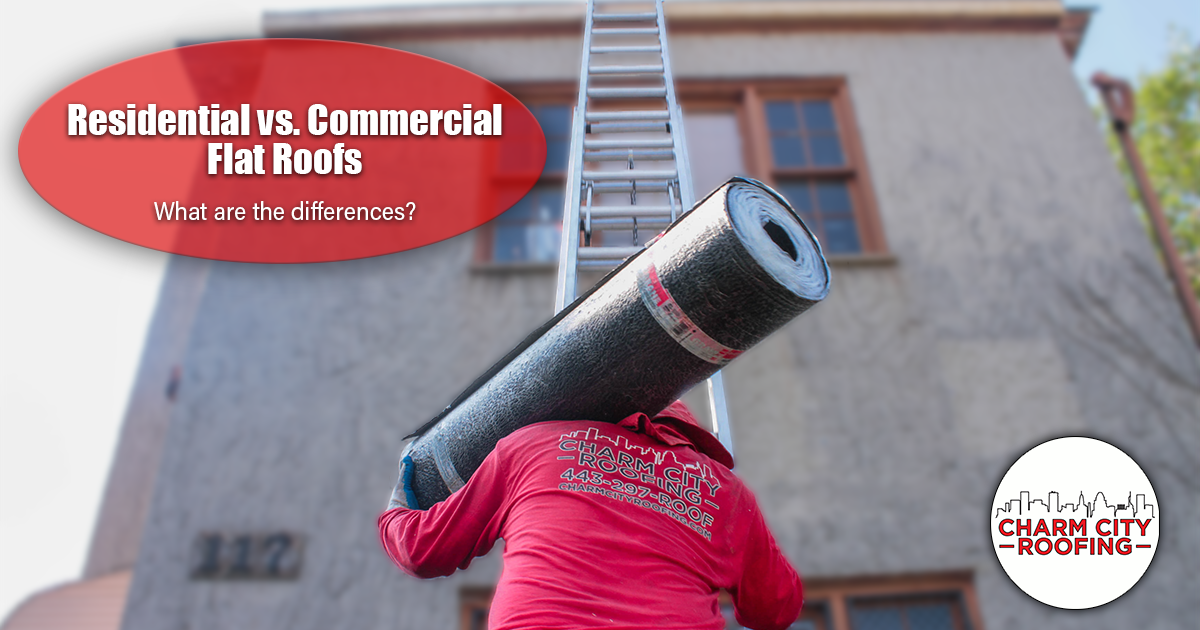 Residential vs. Commercial Flat Roofs – What's the Difference?
The Surprising Difference – Residential vs. Commercial Flat Roofs
Residential vs. commercial flat roofs — Is there a difference between the two? Most people could probably tell you one thing right off the cuff. Something along the lines of "commercial roofs go on commercial buildings, and residential roofs are for homes," right? Well, the answer is both yes and no. The crossover in which products used for these different roofs are not so cut and dry.
Roofs are a lot like snowflakes: no two are exactly alike. If you've ever looked into roof maintenance  or roof installation for yourself, you know that differing aspects can be technical. The asphalt shingles on a suburban home require one set of skills to install properly, while the Rubberoid membrane covering a rowhome or warehouse requires an entirely different one. Because of this, finding the perfect roofer for a job can be tricky. The best contractor needs to be equipped with an arsenal of knowledge relating to your specific roofing needs.
Choosing a qualified roofer can affect everything about your repair or replacement, right down to the warranty options. So what roofer is best for your particular job? The answer may surprise you!
Residential vs. Commercial Flat Roofs
Roofs, and especially flat roofs, can generally be classified into one of two categories: residential or commercial. Each has defining characteristics that heavily impact the knowledge, materials, and skills a roofer must use.
Commercial Roofs
When you picture a roof, commercial roofs are probably not the first thing you think of. These tend to be what we call flat roofs— that is, roofs with an almost imperceptible pitch to them. They're the kind of roofs you might find on the top of a shopping mall: expansive and flat. You might not notice at first glance, but these roofs actually tilt down to drains or scuppers at a low angle. This is an intentional feature of the roof. If the surface were perfectly flat, rainwater would pool, causing leaks and damage. Ensuring proper drainage is an exacting process that is crucial for the health and effectiveness of a flat roof.
On top of that, it's not uncommon for commercial roofs to sport HVAC systems, industrial pipes, or blower outlets. Each of these require specific knowledge to work around.
The materials used in commercial roofs tend to be utilitarian— that is to say, they're not the prettiest. Commercial roofs are meant to be functional first. They're much more likely to use materials like Granulated Rubberoid Torch Down, TPO, PVC, or liquid-applied membrane. These are incredibly effective, cost efficient, and long-lasting, but they won't necessarily win any awards for style.
Residential Roofs
Residential roofs are generally found on… well, residences. You're probably already familiar with a residential roofing style. They tend to have a steeper pitch, use aesthetic shingles, and are generally smaller in size than their commercial counterparts. Asphalt is a common choice for residential roofs, but you may find wooden shakes, slate tiles, or even metal shingles. 
Residential roofers may be less comfortable working around large roof-mounted HVAC systems. You won't find any heavy machinery or industrial lines on a residential rooftop. However, residential roofing still requires expert knowledge. You need to know how to flash skylights, mount solar panels, and set up proper ridge ventilation. 
When it comes to materials, residential roofers are well-versed in the application of shingles. On the other hand, it's rare that a residential roofer will be called upon to use liquid-applied membrane, for example.
The Surprise Twist
At this point, it seems clear that businesses should hire commercial roofers and homeowners should look for residential specialists. After all, residential roofers are clearly better at working on houses, right? Not necessarily. 
It's not uncommon, especially in urban areas, to live in a house with a flat roof. A homeowner in this position has a choice to make. Should they contact a residential roofer, who frequently works on homes? Or would a commercial roofer, who has more experience with flat roofs, be the better choice? Well, if you fall into this category, we have some news for you. 
You have a commercial roof.
That's right— flat roofs use all the same materials and building techniques as commercial roofs. Modified bitumen, asphalt sheets, and PVC roofing are all much more commonly used in commercial roofs. All of these materials are also the most commonly used in flat roofs. Sure, they tend to be a good bit smaller than your standard commercial roof. And yes, you probably have a skylight instead of an industrial pipeline, and homes typically have fewer exhaust outlets. But most of the time, flat-roof homeowners are better off hiring a commercial roofer than a residential one. This is because commercial roofers have much more experience working with flat roofs in general. As a result, they will be more knowledgeable and thorough when making repairs.
The Bottom Line
There are a few distinct differences in the comparison of residential vs. commercial flat roofs. While there are usually differences in the structural load and usage, many times the materials are the same. As a result, for those who have homes with flat roofs, be aware that commercial roofing products are Businesses looking to secure their industrial roof should be looking primarily at commercial roofers. For most homeowners, on the other hand. it's best to choose a roofer with extensive experience working with residential roofs. Flat roofs are the one exception to this rule. If you need a flat-roof replacement, you may find a commercial roofer to be better versed in your specific needs. Before you hire, ask what kinds of work the crew is used to doing. Don't be afraid to look at a few online reviews.
Having trouble finding the perfect contractor? We've got you covered.
Charm City Roofing is both a GAF Master® Certified commercial roofer AND a GAF Master Elite® Certified residential roofer. That means all roof types are welcome here. On top of that, it means we can offer the best warranties in the country, no matter the roof type. Our Master® and Master Elite® status means our work is backed by the biggest roofing manufacturer in North America. Do you need a new set of shingles on your family home? A repair done on a large commercial building? Or are you looking for a replacement for your residential flat roof? Whatever the situation, we have the tools and expertise to keep your roof in tip-top shape.