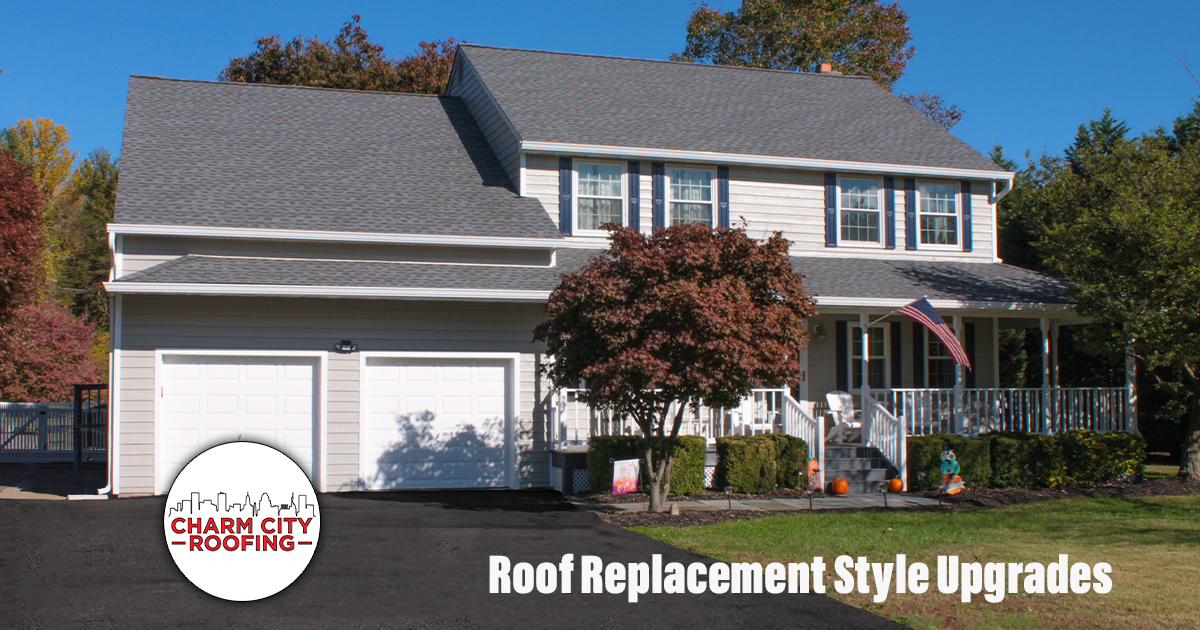 Roof Replacement = Style Upgrade
Roof replacements can be an exciting time to deck out your home with a style upgrade. (Sometimes this can mean a literal deck!) Roof renovations consistently occupy a spot at the top of the home improvement market, and it's little wonder why. A beautiful, leak-free roof is one of the most important parts of a house. But a roof replacement is also a great opportunity to add features, get an aesthetic upgrade, and increase your property value.
How can a Roof Replacement Upgrade the Style of my Home?
There are a host of options available to homeowners who want to enhance their roofs during a replacement. Whether you want to light up the home, upgrade your aesthetics, or make a livable space atop your house, there's something for everyone.
Adding a skylight is a fantastic way to reinvent your indoor space while you repair your outdoor space. Natural light has a way of making every room feel more welcoming and comfortable. If you've been considering putting in a skylight, there's no better time than during a roof replacement.
Rooftop decks give you a private outdoor space in which to enjoy the sunny weather. It's a great way to add a little extra living space without increasing the floor plan. If you're getting your roof replaced, it might be a good time to explore putting in a rooftop deck. This will depend heavily on the specific structure of your house, so talk with you contractor about your options. If you want to know more about roof decks, check out this article!
New shingles are standard in a roof replacement. However, putting a little thought into your shingle choice can go a long way. Even on houses with small roofs, shingles play a huge role in the aesthetics of a home. Picking out a color and material that compliments the rest of your home is a great way to make your house pop. 
What are the Benefits of Upgrading my Home's Style During a Roof Replacement?
Your house, first and foremost, should feel like a home. Adding personalized touches will set you apart from your neighbors and improve the experience of living in your house. However, there are other benefits to paying attention to your house's beauty! 
Curb appeal is a term used to describe the attractiveness of a house when seen from the outside. However, it's more than just a matter of having a pretty house. Curb appeal has a major effect on your home's resale value, too. Something as simple as matching your shingles to your house's paint and trim can rase value by up to 15%.
Aesthetic upgrades can also give your home a major boost in efficiency. Skylights reduce the need for electric lights, meaning you use (and pay for) less electricity. A properly installed skylight can also lower heating costs in the winter and create an escape for warm air in summer. This means big savings for you, and it helps minimize environmental impact.
Your shingle choice can also make a big difference in your home's efficiency. Light colored shingles reflect more light than dark ones, and therefore are best suited to hot, sunny climates. A light shingle will help your house remain cool and minimize the cost of air conditioning. By contrast, dark shingles will help your home stay warm in the cold months. This approach is better for homeowners in cold, snowy environments. Dark shingles are also more adept at hiding algae stains, which may be an important consideration for some homeowners.
How to Pick the Right Style Upgrade

If you do choose to upgrade your roof, there are some extra details to be considered. The right color and material for your new shingles will depend on several factors. Skylights will elevate certain rooms in a house, but might be best left out of others. And only certain roofs can accommodate a new deck.
Shingles
The right shingle material and color will depend on your house, the houses around it, and your local climate. Choose a palette that compliments your exterior paint and trim. Warm colors, for example, work best with other warm colors, and cool colors pair nicely too. This doesn't mean your shingles and paint have to match. Choosing a slightly different shade will unify the aesthetics of the house without coming across as monotone.
You should also take your surroundings into account when choosing shingle materials and colors. Does your house fit the aesthetic feel of your neighborhood? You might want to choose complimentary colors to the houses nearest to you. On the other hand, you might want to choose a unique color to make your house stand out. Either way, having intention behind your color choice will ensure that your roof takes your house to the next level.
Rooftop decks
Flat roofs are excellent candidates for rooftop decks. The low slope makes it easy to attach decking and supports directly to the roof without complicated engineering or expensive work-arounds. Sloped roofs are slightly trickier, but can still often be done. Talk to your contractor to learn more about your specific roof.
Your environment will also play a large role in determining the viability of a rooftop deck. Areas with heavy snowfall and minimal sun will be less well-suited to this construction. Homeowners in a warmer climate, however, will get much more utility out of an outdoor living space.
Skylights
The use you'll get from a skylight also depends on your environment. Sunny locations are often suited best, although skylights can be a fantastic way to enjoy rainy and snowy weather, too.
If you're considering installing a skylight, take some time to consider which room you'd like it installed in. Sections of roof that face north or are covered by tree limbs will offer significantly less light than a clear, south-facing roof.
The Bottom Line
There's no reason replacing your roof has to be a chore! Take the opportunity to enhance your home with a new feature or style upgrade, and get excited about your upcoming roof replacement. For detailed questions about pricing and construction, talk directly to a local contractor.