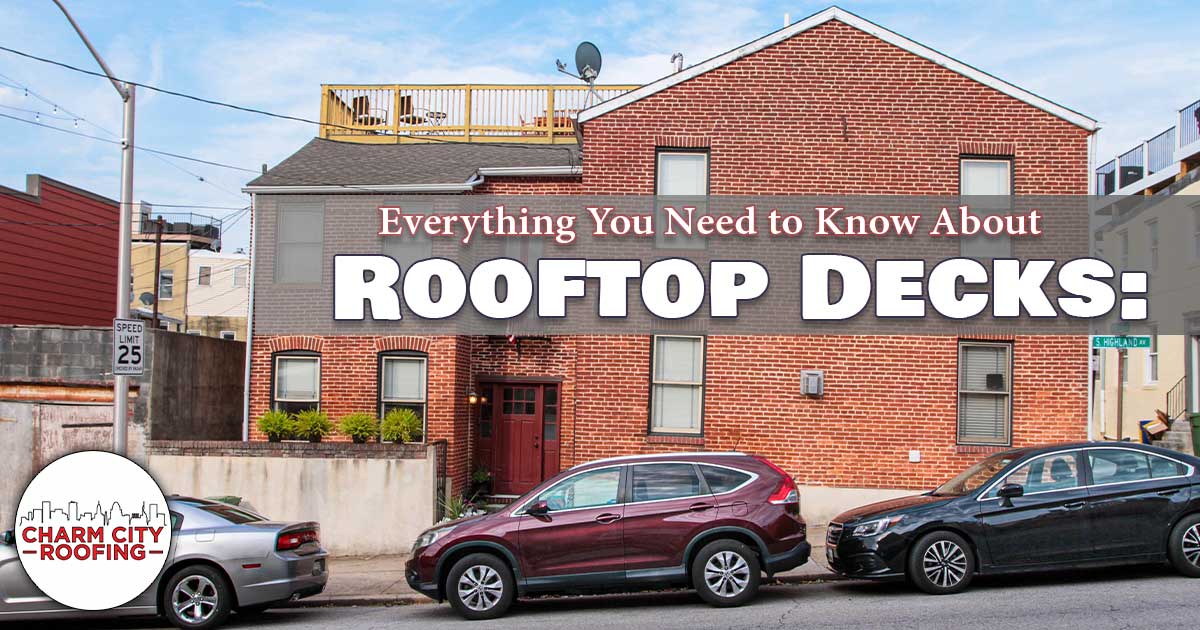 What You Should Know About Rooftop Decks
What You Should Know About Rooftop Decks
Who doesn't love a rooftop deck? Imagine enjoying a private place to tan in the summer, a place to grill and watch football in the fall, or have a moonlit dinner with a view of the harbor. Whatever your inclination, rooftop decks give you a whole suite of ways to enjoy the fresh air.
It's a well known fact that homeowners in urban centers like Baltimore are particularly drawn to rooftop decks. They offer a relaxing, private outdoor experience— something that's difficult to find in the city. For urban homeowners, decks are also a fantastic way to give yourself a little more space to spread out. And why not take advantage of the unused area above your home? 
In Baltimore, it's no surprise that rooftop decks are becoming more and more popular in waterfront neighborhoods. Canton, Federal Hill, and Fell's Point are particular hotspots for roof deck construction. If you're thinking about building a rooftop deck of your own, there are a few things you should know first. We're here to offer a roofer's perspective on this trendy home accessory. Read on to find out whether a rooftop deck is right for your home!
Benefits of a Rooftop Deck
There's no shortage of reasons to adorn your roof with a little extra living space. Whether you're seeking a lifestyle improvement or simply looking for a good return on your asset, adding a rooftop deck is an elegant solution. 
Dining and lounge space.

Ever wished you had more space to entertain guests or enjoy a sunny afternoon? A rooftop deck might be perfect for you. The space can easily be used as an extra room to host dinner parties or enjoy a relaxing summer night.
Gardening areas.

As anyone with a green thumb knows, finding the space to garden in the city can be difficult. If you're done trying to realize your gardening dreams in a cramped back yard, take it to the roof! Even for those with largeryards, a rooftop deck is a way to take your gardening endeavors to new heights.
Property value.

They say the simplest way to increase your property value is to add space. Adding some extra square footage on the roof is a simple way to boost your home's selling price. Plus, rooftop decks are a well-loved feature of a modern home. Having one installed will help to attract a greater range of buyers.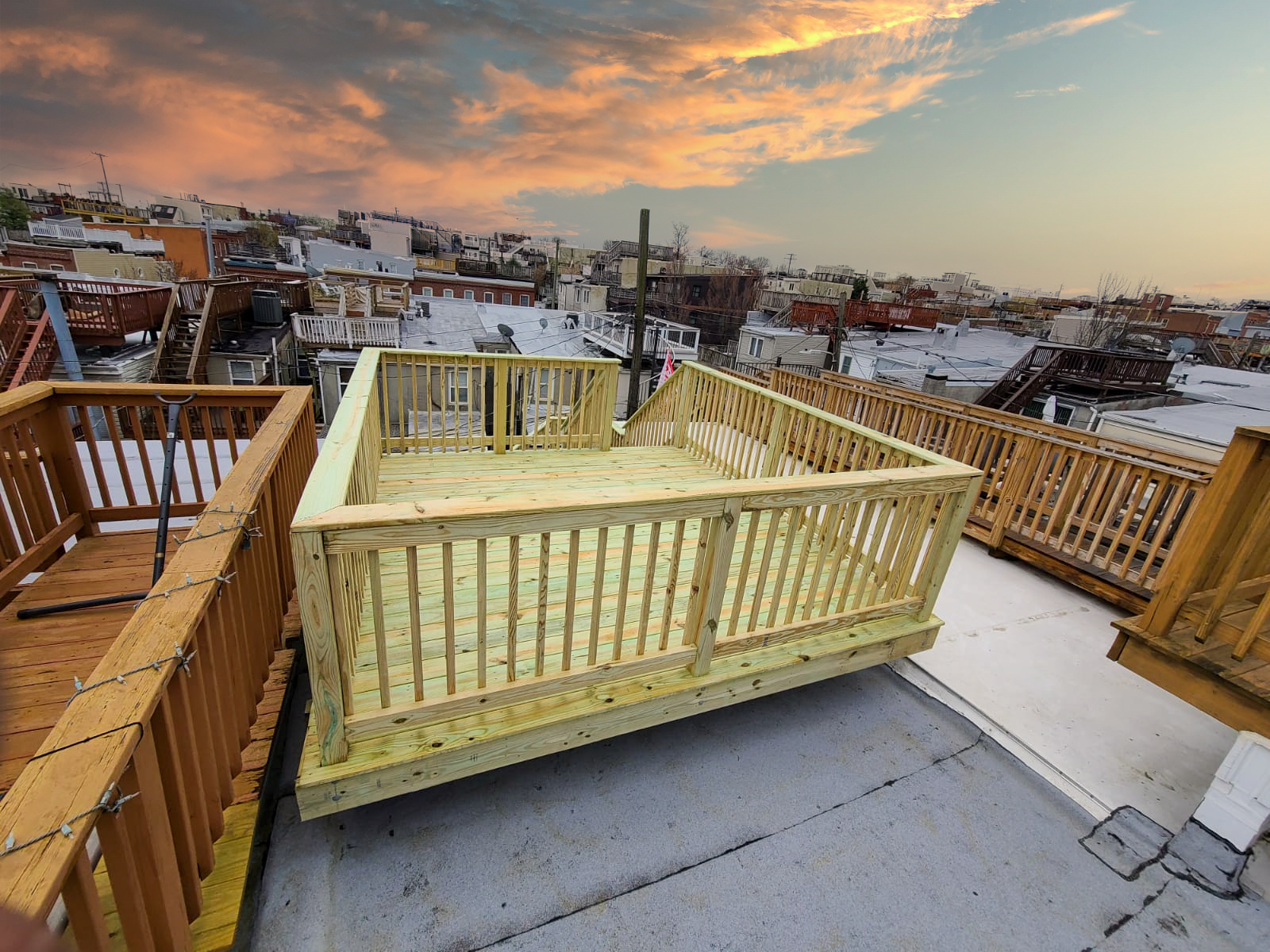 What do you need for a Rooftop Deck?
Not every roof is well-suited to accommodate a rooftop deck. If you're considering building one, you should have an understanding of what you'll need and the challenges you might face.
You need a flat roof

Flat roofs are the

preferred style

to accommodate a roof deck. It's faster, easier, and cheaper to build a reliable structure on a flat surface.

If you have a sloped roof, installing a deck on it is going to be trickier. It's not impossible, but there's a considerable amount of construction and engineering required to make it work.
You need a healthy roof

There are a host of common roofing issues that must be taken care of before deck construction is even considered. If you have leaks, cracks, or other membrane damage, address them before the deck goes up. Unfortunately, flat roofs are rarely ever candidates for maintenance and repairs. If a roof with a deck on it starts showing signs of wear, you'll probably need to replace the whole thing. This is time-consuming and costly, so consider fully replacing your roof before you build the deck. This will help maximize the lifespan of your project. Getting a

professional inspection

is the easiest way to make sure your roof is healthy enough for a deck.
You need a strong roof

Roof decks are heavy. A typical residential rooftop deck can weigh 10 pounds per square foot. That adds up quickly. In fact, it's not uncommon for the total weight of a roof deck to be many thousands of pounds. Under all that extra weight, you need a roof that can bear the load. Your roof should be able to support 55 pounds per square foot minimum. Professional engineers are your best source of accurate structural information for this step. Getting a professional inspection might take a little extra time and money, but it's a critically important safety measure.
You need a permit

The exact regulations you'll be subject to depends heavily on where you live. But odds are good you'll need to clear your project with some authority first. Whether that's a local building department, city office, or an HOA depends on your region. Different areas are subject to different zoning laws too, so make sure your project falls within the legal parameters of your neighborhood.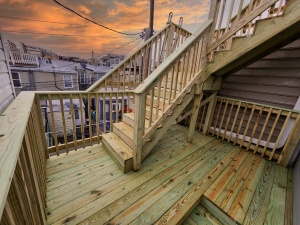 The Bottom Line
Rooftop decks are an increasingly popular feature for homeowners looking to take advantage of waterfront views. For residents of Fell's Point, Federal Hill, or other Baltimore neighborhoods by the water, roof decks are an excellent way to maximize your space. Before taking the plunge, make sure you take the necessary steps to assure the strength and integrity of your roof. Be willing to undergo a full replacement if necessary. For the future-minded homeowner, it's a good idea to design a deck that allows you roof access after construction. This is especially true if you have skylights, vents, and other features that may need occasional maintenance. Additionally, it makes addressing ponding, cracks, or any other issues easier.