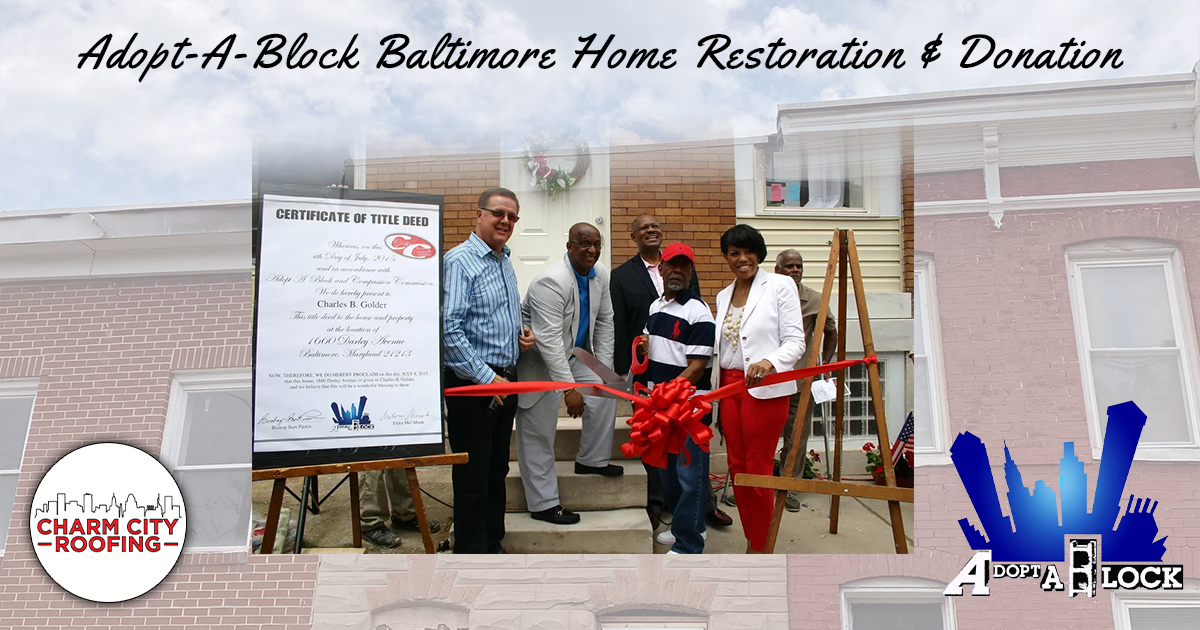 Adopt-A-Block: Baltimore Home Restoration & Donation
Adopt-A-Block Home Donation
Local Business Means Local Community:
When you think of a community, you might picture neighbors at the park or community meetings at the library. With summer rolling in, many of you might be picturing block parties around the barbecue. Few people think about hot asphalt and roofing nails, but those are our tools of choice when it comes time to build up our community.
Building roofs is about more than just attaching shingles to plywood— it's really about the lives that are lived beneath a finished roof. Our roofs provide the setting for meals around the table, parties with close friends, and late nights with a good book. At the end of the day, those moments are what make the difference between a house and a home, and they're the reason we do what we do.
We also are aware of how important our community is to our own success. Any business, whether it's roofing or specialty teacups, can only thrive if the people it serves are thriving too. Our work and our community are inextricably linked— one cannot succeed without the other. That's why we've partnered with Adopt-A-Block to give back to the people who have given us so much.
Adopt-A-Block:

Adopt-A-Block is a coalition of local businesses, government organizations, community associations and residents. Together, these entities jumpstart a number of different initiatives, each focused on fulfilling the needs of the community as a whole. This includes hosting toy drives, donating food, and providing housing to those who need it most.
For the last 20 years, Adopt-A-Block has obtained and renovated formerly abandoned homes and donated them to low-income residents of Baltimore. Local electricians, engineers, roofers, and other experts contribute their time to ensure the renovation is nothing short of excellent.
Adopt-A-Block specifically donates these homes to Baltimore residents who have never before owned a home. The recipients must be part of a low-income household and be over 50 years of age. Adopt-A-Block frequently donates these houses to military veterans and their families. This means shelter and comfort for veterans, but also for their spouses, children, and other family members. It is our hope that by contributing to this housing project, we can do a small part to support those who deserve it most.
Not only does the recipient of this home benefit by getting safe, stable housing, but the whole neighborhood benefits when abandoned houses are filled with life again. Abandoned buildings are more than just eyesores— they impede economic growth and depress property value for everyone in the neighborhood. Restoring abandoned homes creates a ripple effect that reaches far beyond what most of us would ever imagine. These homes represent a valuable resource brought back to life, providing a home instead of sitting empty. People feel safer, happier, and more like a united community. Neighborhoods even see a reduction in crime when restoration projects take on abandoned buildings. 
Our Contribution to Adopt-A-Block:
Charm City Roofing is thrilled to take part in Adopt-A-Block's 19th home restoration and donation. After many hours spent laying asphalt in the summer heat, we've outfitted the donation home with a beautiful new roof that will last for decades to come. We're so happy to know that our hard work will help yet another member of the Baltimore community stay dry, sheltered, and safe. What's more, we got to watch the fruits of our efforts materialize right before our eyes. There's a certain joy found in building something tangible, and knowing it will directly impact the lives of your neighbors.
Of course, even the best roof is no good on its own, and it takes more than good construction to make a house a home. In the final week of the project, over a hundred youth from all across the country will show up to contribute the finishing touches to the house. These include adding a new coat of paint, planting flower beds, weeding, mulching, sweeping, and general cleanup. These final details are crucial to making the house feel complete and ready for its new owners.
This is all thanks to the Compassion Commission, a two-decades old program that arose from a partnership between Adopt-A-Block and Rock City Church. It's an excellent initiative that integrates young people with their community and teaches the value of service.
The Event:
On July 9th, 2022, beginning at 12:00PM, the completed house will be donated and Adopt-A-Block will celebrate the occasion with a block party. The selected Baltimore recipient receives this home completely mortgage-free, just one week after Independence Day. In our opinion, there is no more fitting time to finish a project like this one. Patriotism is about loving your country, and that begins with projects like this one. Too often, we think of our nation as an entity all its own, only distantly connected to our daily lives. The truth of the matter is, if the USA is a tall tower, communities are the bricks that compose it. The best thing we can do to support and strengthen our country is to do the same to the people in our own neighborhoods.
Thanks To Our Community:
We at Charm City Roofing would like to thank all of our customers, both past and present, for your support. Our business would not be here without the backing from clients, neighbors, and friends. We hope to continue to do right by the city of Baltimore, both by participating in projects like these and in our ongoing dedication to excellent roofing.