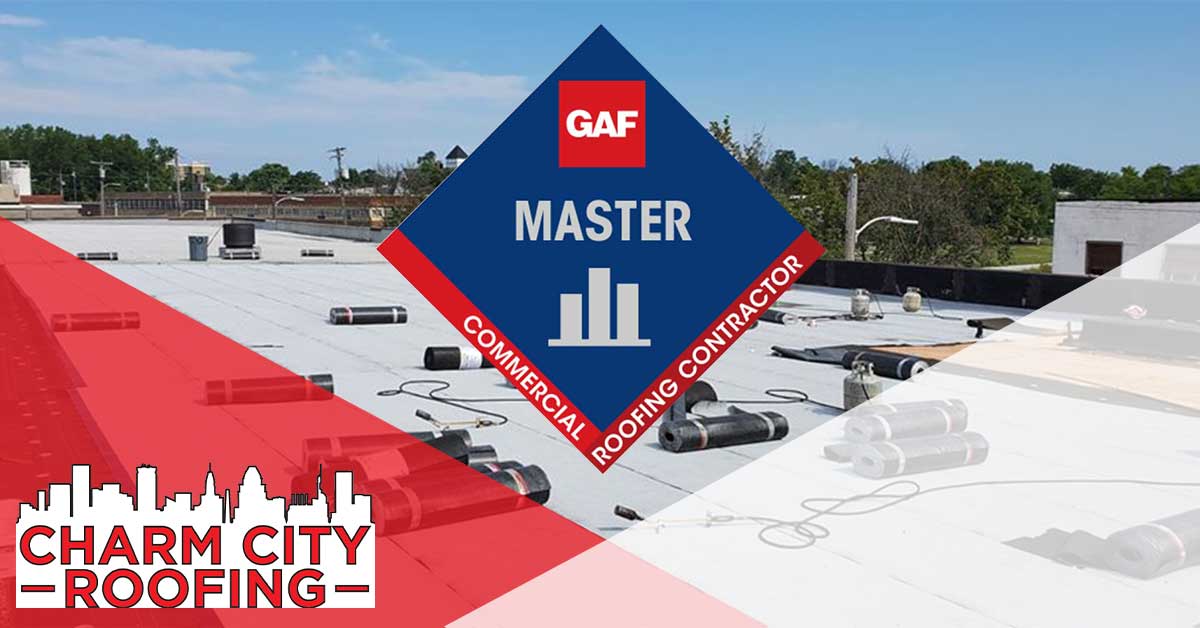 The Differences Between Commercial and Residential Roofing
Commercial Roofs and Residential Roofs Differ In More Than Just Scope
As a GAF Master Commercial Roofing Contractor and a Certified GAF Residential Roofing Contractor we are well aware of the distinction between commercial roofing projects and residential roofing projects. Identifying some of the key differences between Commercial Roofing and Residential Roofing can be very beneficial to consumers looking for the right roof and roofing contractor for their job.
Contrary to the thought that a roof is just a roof, there are some significant differences in the demands, standards, materials, and considerations of commercial and residential roofing. While at the end of the day, a roof is designed to provide shelter and keep water and weather out, the designs of commercial buildings are often much different than residential buildings. It's only fitting that they also require different roofing solutions.
Roof Design
Commercial roofs have to be designed specifically for the building's commercial purpose. For instance, many commercial roofs have to be sufficiently strong to bear heavy equipment loads while also leaving room for exhaust pipes and ventilation. Large commercial HVAC units, ventilation systems, solar arrays, and catwalk/scaffolding are all common obstacles on commercial roofs.
Due to the immense size of many commercial roofs, they must also consider the additional loads from heavy rains and snow. They are very often flat, or low slope, and thus must have strategic drainage systems designed to carry standing water off of the building. Additionally, their size and slope profile usually mean that they are not visible (at least from the ground and building exterior). This means that functionality and performance almost always supersede aesthetics on commercial roofs. While we at Charm City Roofing strive to make every look top notch, the industrial-quality materials used on commercial roofing projects are generally not as textured or colorful as their residential counterparts.
Residential roofs are designed with much different criteria in mind. They strike an ideal balance between performance, aesthetics, and cost-effectiveness. The typical residential roof doesn't have to take into consideration the types of loading that commercial roofs do, and therefore they're able to shift some of the balance toward looking good, and not breaking the bank.
Commercial / Flat Roofs:
The flat roofs found on commercial, and some (mostly urban) residential buildings use materials designed to be impermeable and completely sealed. These roofs have larger surface areas, and without the aid of a slope to drain water, they must be able to provide a water-tight barrier while drainage occurs. A flat roof is also less susceptible to wind damage and therefore different application techniques can be used. 
Typically, flat roofs are covered with some form of membrane roofing. There is a wide variety of options, all with different benefits and uses. Some commonly used flat roof membranes are:
Residential / Sloped Roofs:
While not all residential roofs are sloped or shingle roofs, the majority of single family and suburban homes are designed as such. Sloped roofs differ from flat roofs in that water is drained off with gravity into a gutter system. Residential roofing materials can vary widely, from standard shingles to slate, terra cotta, metal, to cedar shake. However, by and large the most commonly used material is the asphalt shingle. In general, there are two types of these shingles:
3-tab (strip) Roofing Shingle

Three-tab, or Strip Shingles such as GAF's Royal Sovereign line, are the most budget-friendly shingle option. Affordability does not come at the detriment of performance. This shingle style gives a classic look to any home, and has the durability to match it's excellent 25-year warranty.

Architectural Roofing Shingle

Architectural Shingles take the classic shingle look and add a touch of extra flair. With expanded color blends and layered, three-dimensional looks, these shingles can bring your roof to life. Rated at the highest levels of durability, not only are Architectural Shingle beautiful, but they last a lifetime.
Maintenance Requirements/Lifespan
Flat and/or Commercial roofs typically have a lesser lifespan than sloped/shingle roofs, and require a few extra thoughts when it comes to maintenance. However, because they are flat and usually quite easy to access, commercial and flat roofs are generally easier to inspect, repair, and maintain.
When it comes to low slope roofing, it's of the utmost importance to make sure that drainage channels are kept clear and flowing. Unlike sloped roofs where water can run off naturally, flat roofs rely on drainage to get rid of water. If these drains are clogged, excess water could pool on the roof and strain the roofing system.
Any quality and certified contractor should be able to provide warranties on both their own workmanship and the manufacturer's products they use. Be sure to inquire about these warranties whenever you receive and estimate for a roofing job.
Generally, it should come as no surprise that commercial roofing projects are often more expensive than their residential counterparts. Commercial roofs are much larger, and often require additional considerations for equipment and safety.
However, every roof is different and has different considerations and needs. For an accurate assessment of the cost for a job, be sure to request an assessment and estimate!
Conclusion
All things considered, there are many differences between commercial and residential roofing systems. With many things to take into account, such as the differences in materials, methods of applications, and additional accessories, it is always recommended to consult with a certified roofing contractor for any work that needs to be done. 
Charm City Roofing is Baltimore's #1 Roofing Contractor. We are proudly certified as a GAF Master Commercial Roofing and Residential Roofing Contractor. As such, we're able to offer our clients the highest quality materials at honest and affordable prices. Better yet, our partnerships and certifications allow us to provide incredible warranties on all of our work. If you're in the Baltimore Area and seeking to have roofing work performed on your home or commercial building, be sure to reach out to our team.