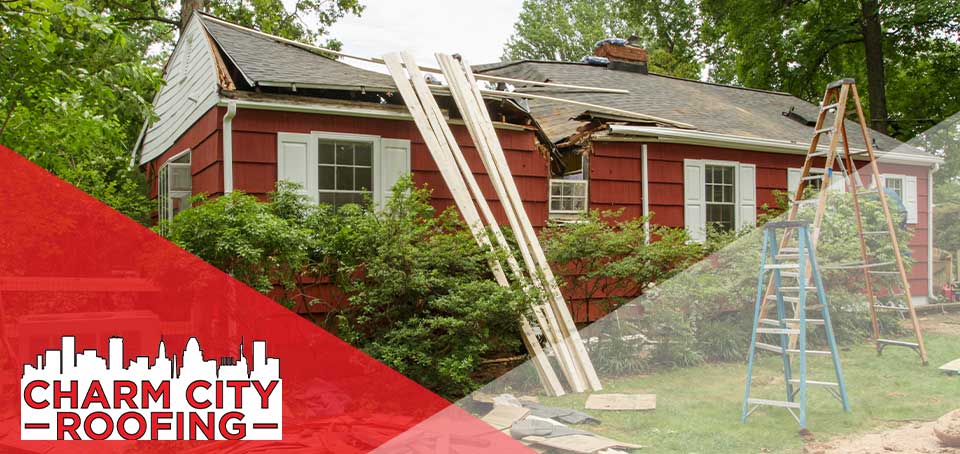 Roof Storm Damage
When Mother Nature Strikes, Call Baltimore's Roofing Specialists
What To Do After A Storm?
The last few years have been some of the rainiest on record here in the Baltimore Area. Maryland is subject to major storms year round, and precipitation from extremely heavy storms is on an upward trend throughout the entire eastern United States. These storms take a toll on our homes and buildings, and it's best to be prepared and armed with knowledge in the event of storm damage to your property. So, what should you do about damage to your roof after a heavy storm?
Schedule and Conduct a Roof Inspection:
If you suspect that there is damage to your roof after a storm, one of the first and best things to do is schedule a consultation and evaluation from a roofing contractor. You can safely evaluate your own roof by walking around the perimeter of your home or building and looking for some of these key signs:
Roof Damage:
Keep an eye out for dents or holes in the roof, as well as torn, warped, curled, or missing shingles. Take notes and/or pictures of any damage — this will help when filing for insurance claims.
As you walk around your home's exterior, look for any dented or loosened areas of your gutters.  Though it's unlikely, look for cracks or holes in your gable vents and overhangs. Pay close attention to your windows and look for cracks, loose weather stripping, and torn screens.
Finally, be sure to check in your attics and/or crawlspaces for leaks and water spots. Even if your roof looks undamaged from the outside, high winds and heavy rains can drive water into your roof via unseen leaks. Any unchecked water damage can lead to bigger problems in the future, so be sure to be vigilant.
How Should You Proceed With Repairs?
After you've performed some preliminary inspections on your roof, next comes the decision on how to proceed. If your roof has only suffered mild damage and still has some years in its lifespan, it could be resolved with a simple repair like our shingle roof tune up package.  If there is more significant damage, or your roof is nearing the end of its service life, you might be better off with a roof replacement and new roof.
Either way, it's recommended to schedule an appointment with a roofing professional for an estimate on the repairs. This will give you a professional opinion on what needs to be done, and an estimate on the cost of the job. If the damage is sufficient enough to file a home owner's insurance claim, having a repair estimate on hand will help you to know if your insurance company is giving you a fair appraisal. For this reason, it's important to hire a trusted roofing contractor.
Have Storm Damage and Need a Free Estimate?

Our roof tune ups are a superior alternative to an average roof repair. We'll provide you with an immediate remedy to any existing problems, and peace of mind for any future ones. Best yet, when you need a new roof down the line we'll credit you the price of the roof tune up towards your new roof!
Want to hear what others have to say about our service? Check out our testimonials page. If you want to ensure that your roof is in Charm City shape, get in touch with us today!